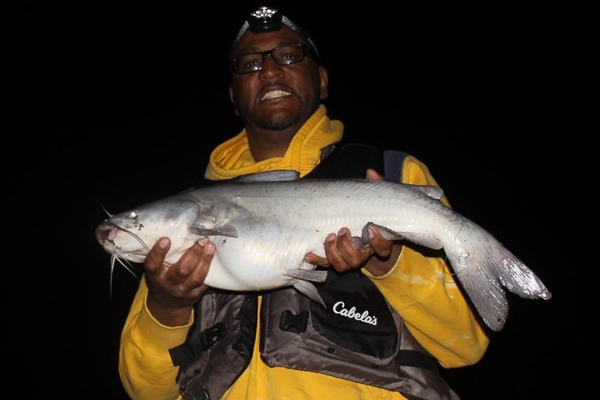 I remember this fish because it was caught on my lighter pole which had cut skipjack herring on it. Do know that there are skipjack herring in the Missouri River, but they are rare. The skipjack herring I was using was bought frozen from another fisherman who had brought them all the way from Alabama. They should not be confused with goldeye or mooneye which people sometimes call skipjack.
The Rig
This fish was caught on my Pflueger President Spinning Reel
which has 30# braid on it. If I am fishing the river in the day time I will often put a small crankbait on this pole and try to catch drum or goldeye while I wait for my bigger, catfish poles to bend over. Sometimes I will rig it with a worm or corn in order to catch a carp for cut bait. Since it was nighttime I decided to put a small piece of cut skipjack herring on a small baitholder hook. I went small because I did not want to hook into a big fish on this lighter equipment. It was a simple Carolina rig with about 2 ounces of weight.
The Structure & Bait Placement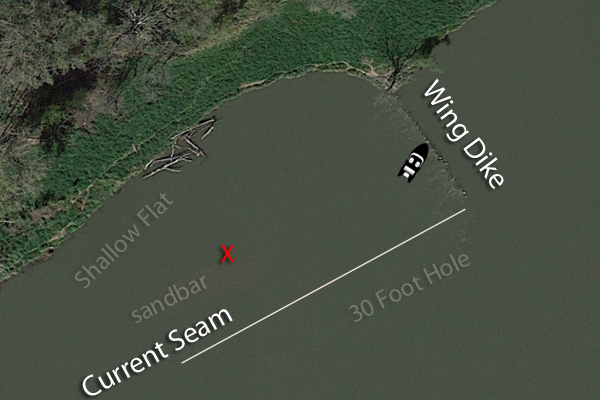 I was tied up to a wingdike, and I had 3 catfish poles in the 30 foot hole that is scoured out by the force of the water swirling around the tip of the wingdike: one at the top of the hole, one in the middle on the ledge and one at the end of the hole. So I decided to put this rig on the sandbar in the shallow flat behind the wingdike. It was very late at night and I was fishing with a guy I met on Facebook and he had fallen asleep on the bow of the boat. It was very late at night and was I trying to get one more fish before we went in. 10 minutes later the pole started dancing and I was relieved to put a blue in the boat, because I normally only catch flatheads in this spot. Not the biggest fish, but a fish nevertheless and my joyous celebration woke up my fishing partner and he was able to snap the picture for me at 2am in the morning.