The Missouri River Scared Me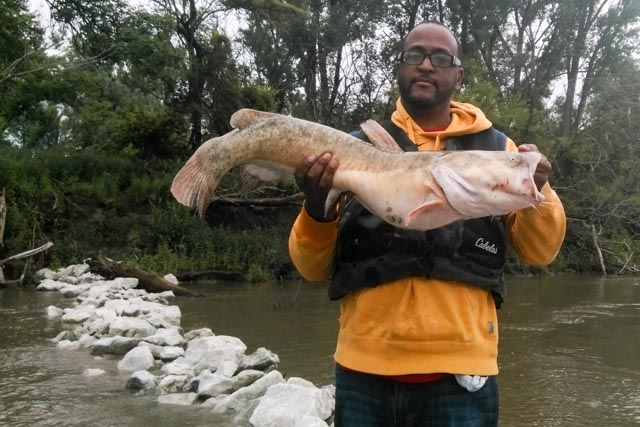 I started fishing wing dikes for one reason and one reason only: Safety. I was a novice with my boat and I was anxious because you hear exaggerated stories of how dangerous the heavily channelized Missouri River is. There are numerous pleasure boats two to four times longer than my boat; they speed up and down the river creating boat rocking waves. There are tree trunks floating down that river that could easily tangle in your anchor line and doom your boat to the bottom of the river. I feel much safer tucked behind a wing dike where no tree trunk can sneak up on me. Perhaps all of my anxiety was overblown, but I was not taking a risk with my kids not having a dad to guide them through life. I love to fish, but I love my family more and I always wanted to come home.
What Is A Wing Dike?
A wing dike or wing damn is a man-made barrier that is designed to force water into a faster moving channel to help reduce the rate of sediment. In theory they help maintain channel depth for barge traffic and lessen shoreline erosion.  They lay perpendicular to the shore and when the moving water strikes it, the water is forced towards the middle of the river. While I am somewhat interested in the engineering of managing major river systems, I am more concerned if these structures provide habitat for fish, especially big catfish.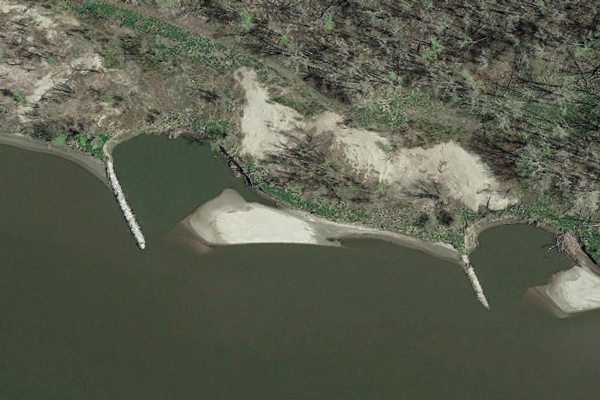 Wing Dikes = Big Holes = Catfish
When I am on the river I am looking for structure that will hold fish and deep holes are one my favorite things to find. I drive slowly up and down the edge of the channel using my hummingbird to look for holes that will hold fish. Without a doubt the tip of wing dike normally has some sort of hole. I don't know the exact science but the force of the water hitting the tip of the wing dike scours out a hole much deeper than the surrounding area. I have found 30 to 40 foot holes which shallow out rather quickly. I have been surprised at how 40 foot of water quickly becomes 2-4 of water. In these holes are catfish waiting to ambush bait.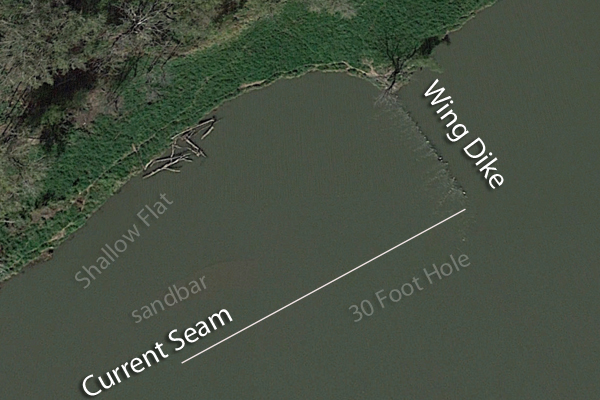 How Do You Fish A Wing Dike?
There are a hundred different combinations on how you should fish a wing dike. I cover this more in a previous post: Fishing the wing dike and the current seam. Do know there is no right or wrong way to do it. If you ask around you are going to get various opinions on boat placement, where you should place your bait, and countless other arguments about the best way to catch big fish. I suggest you try various different strategies and find out what works for you. Half the fun is finding your own system and tinkering with it until you pull in that large fish and proudly display it in a picture.  I hope you release it, so my children have the opportunity to catch it also.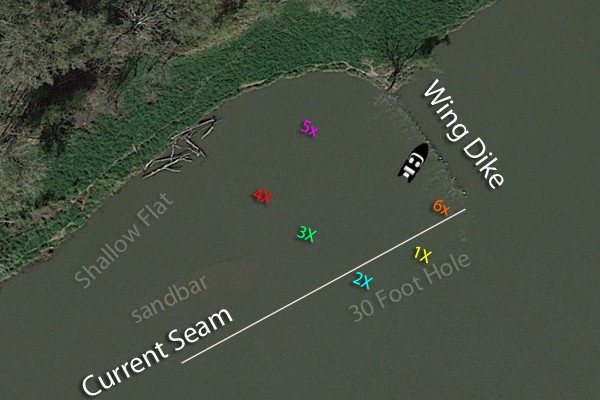 All Of The Following Fish Were Caught On A Wing Dike