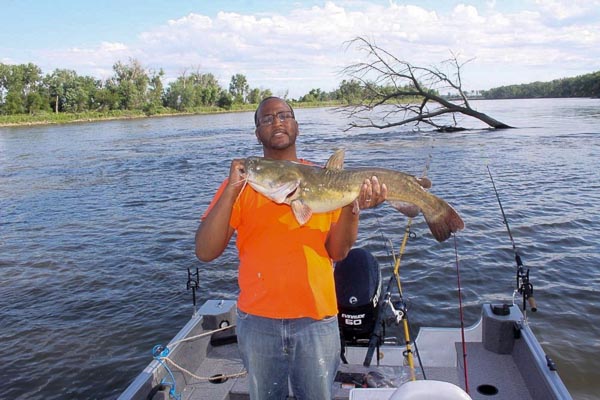 | | |
| --- | --- |
| Date: | 06/7/2015 |
| Weight: | 20 Pounds |
| Bait | Cut Goldeye Head |
| Location | Omaha, NE |
| Body Of Water | Missouri River |
| Structure | 30 foot hole behind  a wing dike near a current seam |
| Temperature | unknown |
| Water Temperature | unknown |
Thank The Maker For Goldeye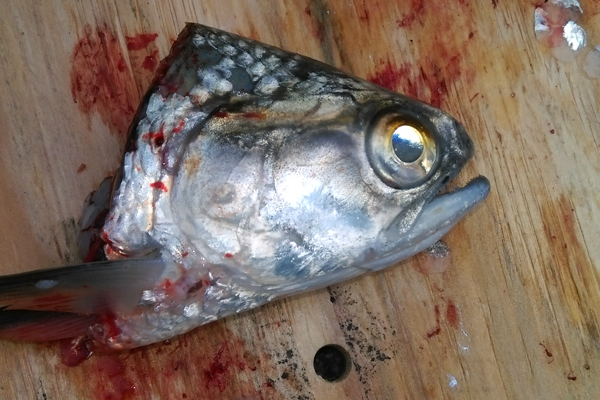 My favorite bait is fresh cut goldeye and the one that help secure this flathead was caught in the same spot on a bobber with a worm attached to it. I am always very grateful when a goldeye is landed because they make excellent bait. I am assuming it is because they are natural to the body of water and because they are oily and bloody and must leave a nice scent trail. I plan to research that theory but for the time being it is a fact that they catch fish.
Wing Dikes Work For Me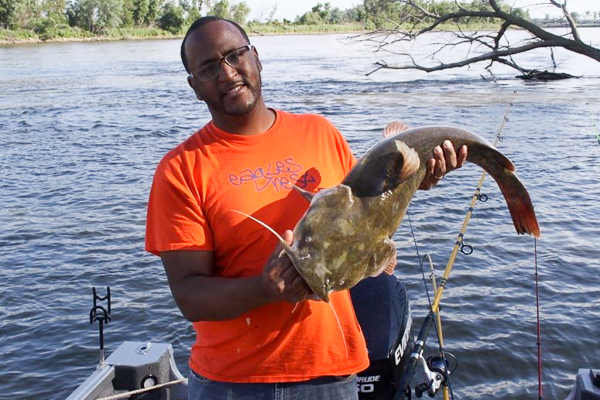 Once again I was anchored on the back side of a wing dike casting into the hole that is created from it. Obviously I could have anchored above the hole further out into the river, but at this period of my boat experience I did not feel safe doing that. When you are tucked behind a wing dike you don't worry about a floating tree getting fouled into your anchor line. You also feel the waves less from the jets skis and pleasure boat who are racing to the next sandbar to enjoy a beer.